KEIM ROYALAN DILUTION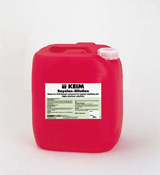 Informasi Produk
Dilution digunakan untuk produk KEIM Royalan system, baik sebagai campuran maupun sebagai primer apabila dibutuhkan. Bereaksi secara kimia dengan permukaan yang berbahan mineral. Produk ini mengandung potassium silikat cair, acrylate, stabilizer dan Additif.
Aplikasi
Digunakan untuk memperkuat/mengikat permukaan dinding yang rapuh dan sebagai bahan pengencer untuk KEIM Royalan dan sebagai bahan penyeimbang/pengurang tingkat penyerapan pada permukaan dinding.
Sifat Produk
Produk ini bereaksi secara kimia dengan permukaan dinding (silifikasi), tidak menutup pori dinding, mempunyai tahan tahan terhadap cuaca, dan tidak mudah terbakar.
- Kuat mengikat/menyatu pada permukaan dinding
- Tidak menutup pori-pori dinding
- Tidak menahan uap air
- Daya tahan terhadap polusi dan hujan asam
- Menghambat pertumbuhan jamur pada dinding
- Tidak mengandung bahan berbahaya
- Memperkuat/mengikat permukaan dinding
Dilution and primer for the products of the KEIM Royalan system.

Used to consolidate friable surfaces as a binder coat and as dilution for the KEIM Royalan system and equalization of the absorbency of substrates.